A Comedy Podcast About Asian Culture
As featured in The Guardian and Apple Podcasts' New and Noteworthy, Rice To Meet You is a comedy podcast about Asian culture that's accessible to everyone!
Join UK-based comedians Nigel Ng and Evelyn Mok as they talk to notable guests about the modern Asian experience.
Support The Podcast
Episodes
---
This week Evelyn tells us about her Tinder-adventures, Nigel talks about how they're both left over people, we get into Bling Empire and Nigel pitches his strategy for combating hate...
This week Nigel tells us about the best street food he's eaten, how he's become Uncle Roger's agent, while Evelyn talks about attachement theory and how boring it is to...
This week, Nigel tells us the full story of his recent heartbreak, Evelyn shares her own experiences of past traumatic relationships and the Nigel also addresses his recent misfired attempt...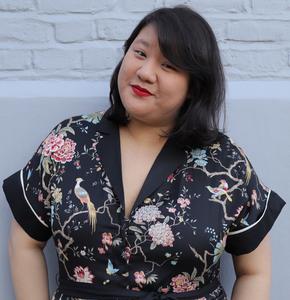 Evelyn Mok
Born and raised in Sweden to a Hong Kong-nese father and a Chinese-Indian mother, Evelyn dishonered her parents by moving to London to pursue stand-up. She's performed stand-up on Comedy Central, the BBC, won Best Comedy Newcomer at Pleasance Indies Awards for her debut Edinburgh Fringe show and went on to perform it at London's Soho Theatre.
She's acted in Spiderman: Far From Home (Marvel), Sally4Ever (HBO) & The Reluctant Landlord (SKY) and been named One to Watch by Time Out and BBC New Talent Hotlist.
In her native Sweden she's been nominated for Female Comedian of the Year and Best Show of the Year at The Swedish Stand-Up Gala, starred in the acclaimed sitcom Course in Self-Annihilation and guested on several panel shows.
All this and she still can't please her asian parents!
Evelyn's Website
Nigel Ng
Nigel Ng is a Malaysian stand-up comedian who moved to London to pursue a comedy career. He was nominated for the prestigious Best Newcomer Award for his sold-out show Culture Shocked at the Edinburgh Fringe Festival 2019, and then followed that up with another sold out week-long run at London's Soho Theatre in 2020.
He made his TV debut in 2018 on Comedy Central's Stand Up Central, shortly followed by Comedy Central's Roast Battle. In 2019, he's quickly added to this by appearing on Mock the Week (BBC Two), Romesh Presents: Nigel Ng (Sky) and Stand Up, Asia! (Comedy Central) and Stand-Up Sketch Show (ITV).
He also makes content for Instagram and YouTube. Check them out and follow/subscribe!
Nigel's Website
Support the Podcast!
Rice to Meet You is a self-produced podcast run by Evelyn and Nigel. We love making the podcast and our hope is to create a space for the Asian community where we can come together to laugh, celebrate and enjoy the experiences, idiosyncrasies and nuances of our culture.
To be able to sustain and grow the platform we need your support! Your contributions will go towards getting equipment and editing tools, hosting, booking more prominent guests and studio space and organising live podcast recordings!
As a thank you, we'll give you bonus-content, extrasodes and free tickets to live events!